If you're interested in trading football on Betfair, you will need to know some of the best football trading strategies.
Below I provide you with a complete list of the strategies that I regularly use when Betfair football trading.
You will find that most of these are low-risk (well at least they are the way I trade them) and when approached in the right way, you should be able to make a consistent long-term profit.
Having a selection of football trading strategies to choose from is important. Over time, you can build a portfolio of strategies that you will be able to use on different games instead of using one system for every match.
Naturally, some of the trading systems below can be used on the same game but can also depend on when goals appear to be likely.
For example, if a goal after 30 minutes looks possible, you could lay 0.5 goals in the half time market. You could also back over 1.5 goals if the price was right or back over 2.5 goals. If the favourite was dominant, lay the draw may be a good play, wait for the goal and then take a nice profit.
The important thing to remember is that having a number of soccer trading strategies can only give you more options and greater flexibility for trading any game.
I have created some comprehensive guides for one or two of the strategies below, and over time I hope to produce a guide for each one so you can use the system more effectively.
Football Trading Systems
LTD2 – Lay The Draw
My version of lay the draw (LTD2), is one of my favourite and most successful trading strategies. Some people say that "lay the draw is dead", but for me, this simply isn't the case. Frankly, I'm happy that the masses continue to think like this!
I've recently started to publish my tips once again for this system via my Telegram channel and on the home page.
The system is one that I have used since the early days of my trading journey and has made me some excellent profits over the years.
The beauty of this lay the draw system is in its flexibility.
I created a 90-page E-Book which I regularly update (revisions are free to those who purchase the E-Book) which reveals everything you need to know about this particular strategy.
Once you have downloaded the E-Book, which is in PDF format, you'll be able to follow along with my tips or even find your own.
The guide is currently available to download here – https://payhip.com/myfootytrading
If you register for my free newsletter I will send you a discount code for 10% off.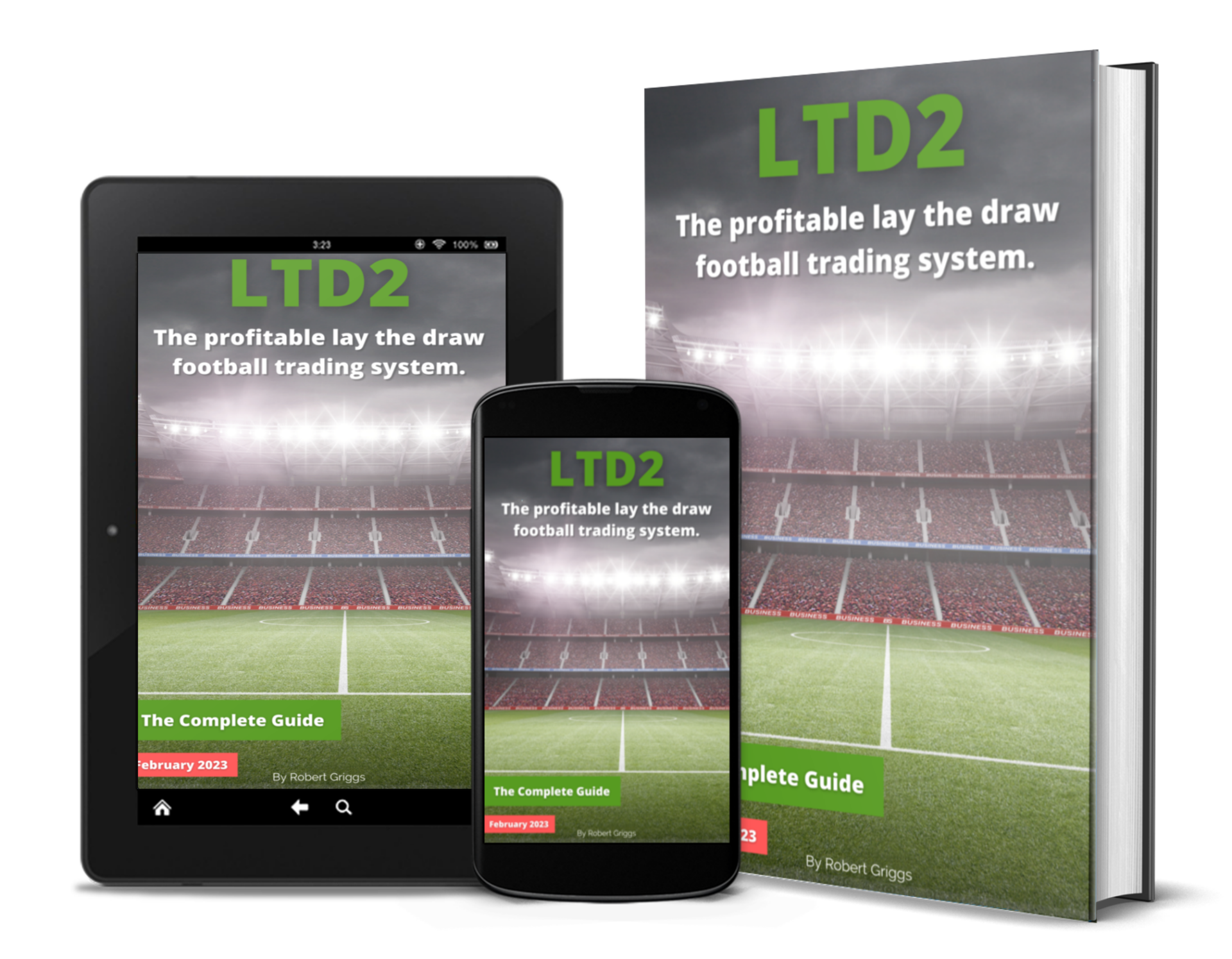 Over 1.5 Goals
This is another low-risk strategy that would make a good addition to any football trader's portfolio.
With the vast majority of games ending with two or more goals, with the right selection method, it is a solid trading strategy that should give you a strike rate over time of around 80%.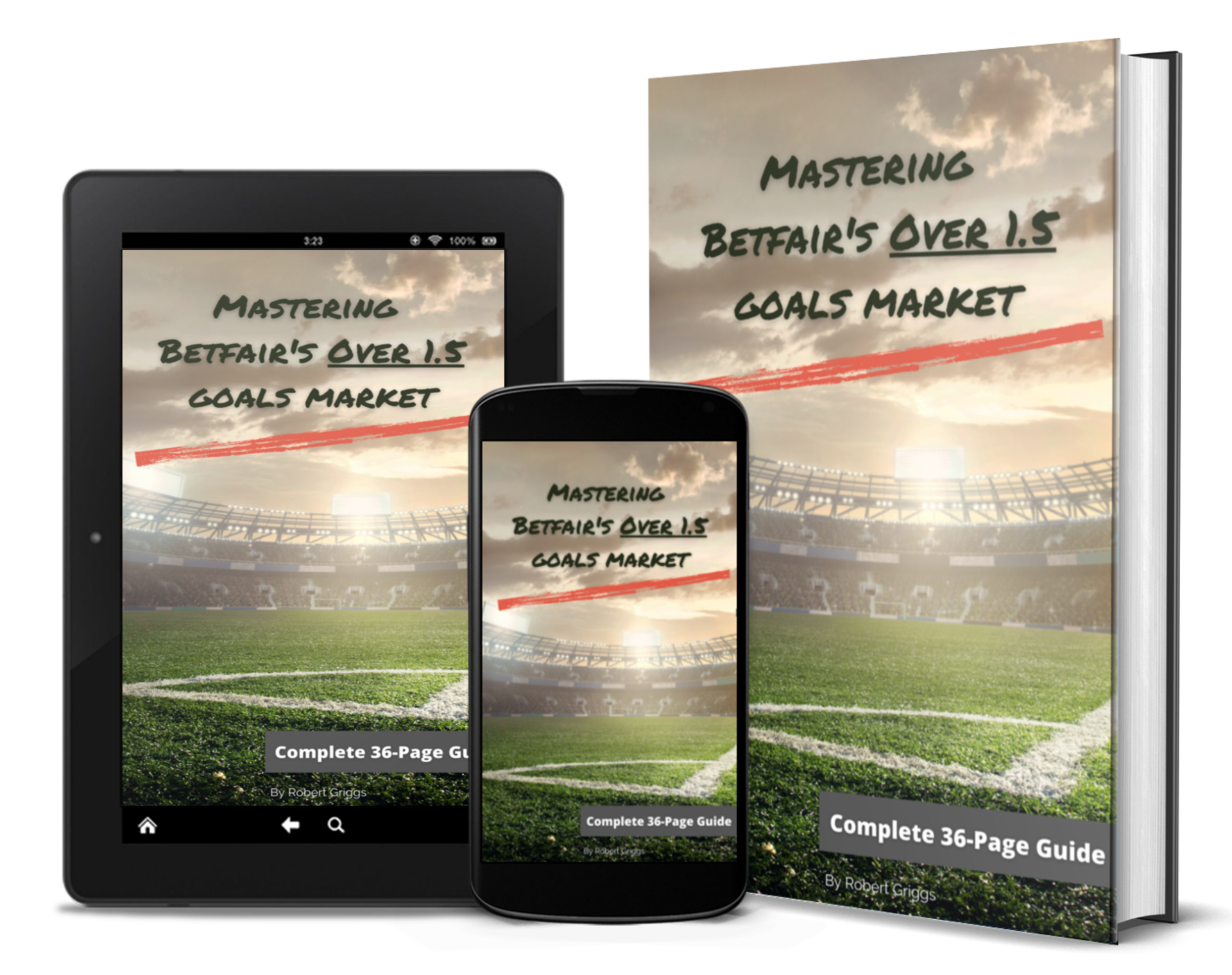 FH LTD – First Half Lay The Draw
With an average of 70% of football matches having a first-half goal, the FH LTD strategy is a cracking system that once again, when played right should return a good profit.
Like other strategies where you are expecting a first-half goal, you will wait around 20-25 minutes and if the game is still 0-0 and there is sufficient action, you will enter your trade.
Options for this one are either lay the draw in the half-time market or lay 0-0 in the half-time score market.
It is surprising how many goals are scored just before half-time.
I will document my processes for this one shortly, but ideally, you will want to pick two teams that have an average of over 70% first-half goals. I will usually look at the last 5 or 10 games.
I will normally use either adamchoi.com for this or soccerstats.com to find the best games.
You don't have to use this one if you are expecting a first-half goal. You could just as easily back over 1.5 goals or over 2.5 goals or as mentioned, lay 0-0 in the half-time score market.
Just find the market which looks like it has the best value and go for it.
It's another of my favourite low-risk football trading strategies.
O2.5/BTTS – 5K Challenge
Another of my best football trading strategies and one that I use a lot is the 5K Challenge system of O2.5/BTTS.
O2.5 or 'Over 2.5 Goals' looks for three or more goals, although two early goals can also seal a really nice profit.
BTTS (Both Teams To Score) only requires two goals although, as the name suggests, both teams need to score.
In this approach, I often use the two together as the selections for this system will usually have a good chance that both teams will score.
Once again, I have created a comprehensive E-Book for this trading system which goes in-depth about bankroll management, staking, entry and exit points, how to find value, xG (Expected Goals) and how you can easily find your own selections.
Like the LTD2 system, I regularly publish my own selections via Telegram and the website so you don't even need to find your own selections if you don't want to. I will do the leg work for you.
I would recommend that if you are going to trade my tips, then you download the E-Book first so you know how to enter and exit the trade etc.
You can download the 5K Challenge E-Book in PDF format via the following link https://payhip.com/myfootytrading
If you register for my free newsletter I will send you a discount code for 10% off.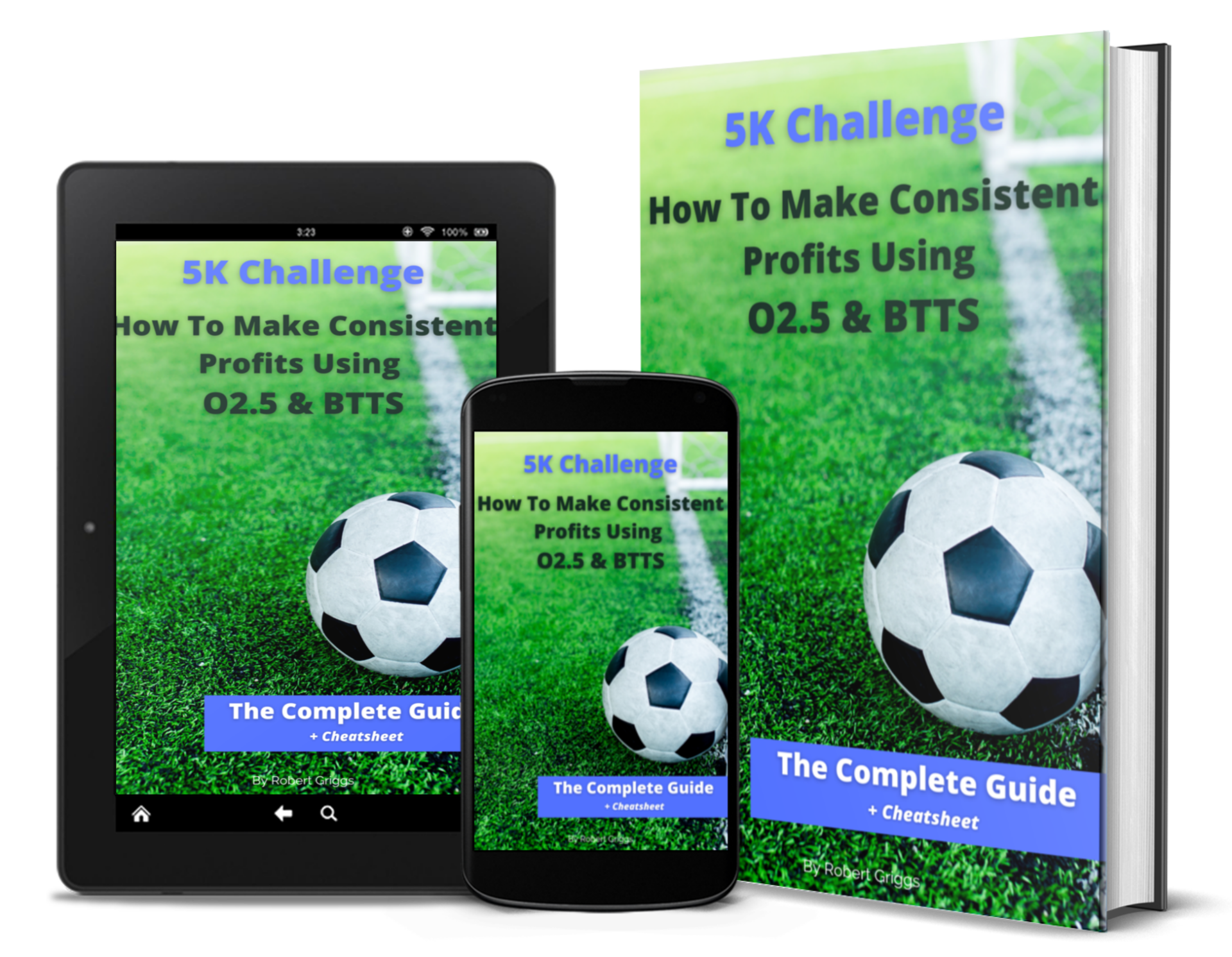 SH LTD (Second Half Lay The Draw)
This football trading strategy is another popular choice for those who like to trade the second half.
With so many goals scored later in games, this one is an obvious choice when goals look likely late on.
I will provide more info on this strategy soon, but as a rough guide, you will wait until at least 60' or just over and lay the draw at 2.0 or below for one point.
Obviously, the game needs to be a draw up until that point. You will need to choose teams that have a high average of at least one second-half goal. I will also look for teams that haven't had any 0-0's either recently or many in previous head-to-head encounters.
When a goal goes in, and the market has settled, you can cash out for a profit. If there are no goals you will lose around 1 point or less, depending on the price you laid the draw at.
Another option like the FH LTD is to lay the 0-0, 1-1 etc in the score market which means when there is a goal you will have a full profit and will not need to trade out which isn't the case when laying the draw. If laying the draw, you will have to cash/trade out.
SH LTD is an easy strategy to use, so is ideal for both experienced and beginning football traders.
Learn more about SH LTD.
SH1.5 (Second Half 1.5 Goals)
If you like trading the second half, SH1.5 is a great choice.
The strategy takes advantage of the fact that the majority of goals are scored in the second half.
You will want to pre-select games where the average for two goals being scored is strong.
You then simply back over 1.5 goals if 0-0, or over 2.5 if 1-0/0-1 or over 3.5 if the score is 1-1 at half time etc. Basically, just add 1.5 goals to the current number of goals.
Depending on when the first goal is scored you can either take the profit, remove your liability and have a free bet at getting another goal (zero loss if there isn't one) or let the trade run and go for maximum profit.
You may also choose to trade out for scratch if another goal does not look likely.
Whatever you decide, make sure you are always thinking about protecting your trading bank.
More on this strategy can be found here.
65/75 (65-75' Minute Goal)
With the 65/75 football trading strategy, you will look for one of the teams to go in front during the 65th and 75th minute.
You will find that when one team goes in front during this window, there is sufficient enough time for the trailing team to mount a comeback. They may also leave the backdoor open and allow the team in front to extend their lead. Either way, you are looking for the opportunity of another goal.
The main approach would be to lay the current score for one point (no more than 2.0). One goal gives you an instant win.
You could also split your stake and lay the score for 50% of your stake and lay the leading team for 50%.
If the goal is scored by the trailing team you will have a nice profit which you can trade out of, and also will have a profit with the score market.
As is the case with any trade, check sofascores.com and make sure that the activity is good and that goals are possible and that the game hasn't flatlined.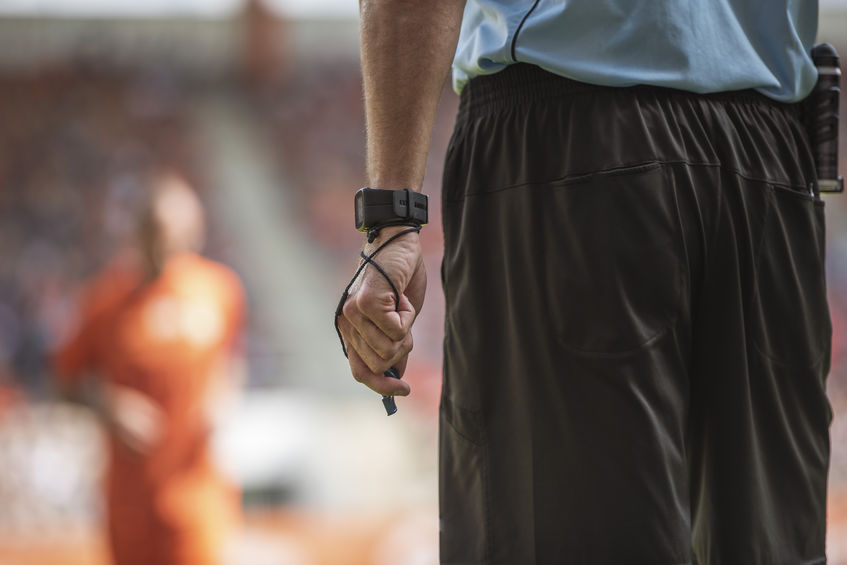 In-Play 85' (Late Goals)
The final low-risk strategy I will share with you is one that I use a lot.
As you will most probably be aware, there are MANY goals scored right at the end of football matches.
This is often because one of the teams is chasing a goal for example if they are losing 1-0/1-2 etc.
When there is little time left, teams will push for an equaliser which in turn opens the game up also offering the leading team the chance to extend their advantage.
It is amazing how often these late goals go in.
So what's the best approach?
Personally, I will look at any game that is approaching the last 5 or 10 minutes or so and where one of the teams is behind and pressing for an equaliser.
You don't want games that are 2-0/3-0 as there is little reason for the trailing team to push in the last 5 minutes. There has to be that URGENCY factor!
Matches, where the stronger team or favourite is behind, are often the best.
I will also use Sofascores.com to make sure that there is still plenty of action and that the game hasn't fizzled out. If the action and goal attempts look good I will lay the current score for one point.
If you are able to watch the game via Betfair or another method then even better, as it may give you a better insight and feel as to whether goals are likely.
Quite often, you can get really low lay odds of around 1.25 or even less.
Always make sure that the price you are laying out represents good value.
Definitely one of the best low-risk football trading strategies with a great risk/reward ratio!
CONCLUSION
Well, there you have it, some great low-risk football trading strategies you can add to your portfolio to give you every opportunity of making a long-term profit.
If you would like to receive my strategy tips, watch live trade videos and read other exclusive content, please sign up to my monthly membership program.