Welcome,
Are you a football trader looking for tips for the latest games?
Or maybe you're a beginner and want to take your trading to the next level and start making a consistent profit?
Either way, you should find lots of useful information to help point you in the right direction and make you a better football trader.
EMAIL NEWSLETTER – (Free) – Before you do anything else, please sign-up to my free football trading email newsletter.
I regularly publish my selections for each of my strategies. I also send out my trading results, monthly reviews as well as tips and advice on football trading.
E-BOOKS (Small Charge) – I've now published four E-Books, one for the LTD2 system, one for the 5K Challenge, one for the Over 1.5 Goals strategy and lastly my new strategy, Double Up. All four provide you with everything you need to trade the selections that I send out via email more effectively and extract a consistent profit from the Betfair markets.
I also cover things such as mindset, value, xG (Expected Goals), entry and exit points, bank management, staking and other important aspects of trading these systems. I also show you how to find your own selections for each system.
If you have registered for my newsletter you can get 10% off any of the guides.
For an even bigger discount, you can download all four together with the Multi-Ebook Package, saving you around £15. You will also receive a further 10% off if you subscribe to the newsletter.
BLOG POSTS (Free) – I regularly post a number of blog posts to the site where I share information, tips and guidance on the low-risk football trading strategies that I use, along with my own personal results. I believe in transparency and always share how I get on rather than just offering you my tips.
If you have any questions, please feel free to email me. 😉
5K Challenge & Lay The Draw Tips
Date
Time
Match
Strategy
For tips, trade reviews and more, please subscribe to my free Newsletter
5K Challenge Running P/L: +81.70 pts (+£817.01)
LTD2 Running P/L: +52.22 pts (+£522.26)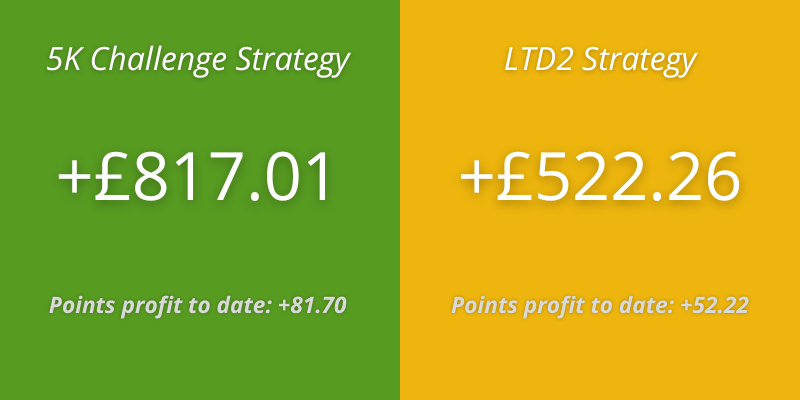 5K Challenge Results
| Month | Profit/Loss | Win Rate | Avg Stake | Total Stakes | Yield | Running P/L |
| --- | --- | --- | --- | --- | --- | --- |
| 30 | +£33.87 (3.387 pts) | 28/46 - 60.86% | £7.56 | £347.86 | +9.73% | +80.93 pts (£809.32) |
| 29 | +£77.18 (7.718 pts) | 33/52 - 63.46% | £8.60 | £447.55 | +17.24% | +77.54 pts (£775.45) |
| 28 | +£8.84 (0.884 pts) | 12/20 - 60.00% | £10.30 | £206.00 | +4.29% | +69.82 pts (£698.27) |
| 27 | +£19.64 (1.964 pts) | 14/23 - 60.86% | £6.86 | £158.00 | +12.43% | +68.94 pts (£689.43) |
| 26 | +£24.57 (2.457 pts) | 27/42 - 64.28% | £8.14 | £342.00 | +7.18% | +66.85 pts (£668.52) |
| 25 | +£8.25 (0.825 pts) | 15/26 - 57.69% | £8.65 | £225.00 | +3.66% | +64.39 pts (£643.95) |
| 24 | +£3.53 (0.353 pts) | 14/29 - 48.27% | £7.87 | £228.50 | +1.54% | +63.57 pts (£635.70) |
| 23 | +£42.03 (4.203 pts) | 23/38 - 60.52% | £8.73 | £332.00 | +12.65% | +63.21 pts (£632.17) |
| 22 | +£79.53 (7.95 pts) | 20/27 - 74.07% | £7.22 | £195.00 | +40.78% | +59.01 pts (£590.14) |
| 21 | +£19.37 (1.93 pts) | 12/19 - 63.15% | £6.51 | £123.85 | +15.63% | +51.06 pts (£510.61) |
| 20 | -£40.15 (4.01 pts) | 8/25 - 32.00% | £12.00 | £300.00 | -13.33% | +49.62 pts (£496.24) |
| 19 | +£19.32 (1.932 pts) | 16/24 - 66.66% | £10.32 | £247.86 | +7.79% | +55.63 (£556.39) |
| 18 | +£76.66 (7.66 pts) | 23/30 - 76.66% | £9.01 | £270.50 | +28.34% | +53.70 (£537.07) |
| 17 | +£45.62 (4.562 pts) | 14/17 - 82.35% | £7.97 | £135.50 | +33.66% | +46.06 (£460.63) |
| 16 | +£39.65 (3.965 pts) | 13/21 - 61.90% | £8.76 | £184.00 | +21.54% | +41.50 pts (£415.01) |
| 15 | -£6.28 (0.628 pts) | 8/19 - 42.10% | £8.81 | £167.39 | -4.07% | +37.53 pts (£375.36) |
| 14 | +£32.46 (3.24 pts) | 11/17 - 64.70% | £9.29 | £158.00 | +20.54% | +38.21 pts (£382.18) |
| 13 | -£17.44 (1.74 pts) | 7/16 - 43.75% | £9.50 | £152.00 | -11.47% | +34.97 pts (£349.72) |
| 12 | +£51.92 (5.19 pts) | 11/15 - 73.33% | £9.86 | £148.00 | +35.08% | +36.71 pts (£367.16) |
| 11 | +£17.11 (1.71 pts) | 9/15 - 60.00% | £10.26 | £154.00 | +11.11% | +31.52 pts (£315.24) |
| 10 | -£8.38 (0.83 pts) | 5/11 - 45.45% | £12.09 | £133.00 | -6.30% | +29.81 pts |
| 9 | +£80.64 (8.06 pts) | 24/34 - 70.58% | £8.64 | £294.00 | +27.42% | +30.65 pts |
| 8 | +£35.97 (3.59 pts) | 21/29 - 72.42% | £6.68 | £199.00 | +18.07% | +22.58 pts |
| 7 | +£5.12 (0.51 pts) | 18/28 - 64.28% | £8.82 | £247.00 | +0.20% | +18.99 pts |
| 6 | +£10.05 (1.05 pts) | 40/63 - 63.49% | £7.46 | £470.16 | +2.13% | +18.48 pts |
| 5 | +£25.34 (2.53 pts) | 43/67 - 64.17% | £6.06 | £406.04 | +6.24% | +17.47 pts |
| 4 | +£76.47 (7.64 pts) | 30/41 - 73.17% | £7.90 | £324.21 | +23.58% | +14.93 pts |
| 3 | +£58.37 (5.83 pts) | 37/56 - 66.07% | £8.12 | £455.00 | +12.82% | +7.29 pts |
| 2 | -£61.70 (6.17 pts) | 10/21 - 47.61% | £8.69 | £182.50 | -33.80% | +1.45 pts |
| 1 | +£76.37 (7.63 pts) | 40/52 - 76.92% | £7.63 | £396.82 | +19.23% | +7.63 pts |