Welcome,
Are you a football trader looking for tips for the latest games?
Or maybe you're a beginner and want to take your trading to the next level and start making a consistent profit?
Either way, you should find lots of useful information to help point you in the right direction and make you a better football trader.
Via this website I provide three main areas of content which are:
FOOTBALL TRADING TIPS (Free)– Most days I publish my lay the draw (LTD2) and 5K Challenge (O2.5/BTTS) selections to this page as well as my Telegram Channel. Please take a moment to join the Telegram channel so you receive my football trading tips the moment they are available. I also have a Live Trades Telegram Channel, which you can join and follow along with my trades.
E-BOOKS (Small Charge) – I've now published three E-Books, one for the LTD2 system, one for the 5K Challenge and one using my Over 1.5 goals strategy. All three provide you with everything you need to trade my selections below more effectively and extract a consistent profit from the Betfair markets.
I also cover things such as mindset, value, xG (Expected Goals), entry and exit points, bank management, staking and other important aspects to trading these systems. Most importantly, I show how to go about easily finding your own selections using a simple process.
If you would like to download the 5K Challenge guide (based on the popular Over 2.5 goals and BTTS markets), the popular LTD2 (Lay the Draw) E-Book or my latest work of art 'Mastering Betair's Over 1.5 Goals Market' then register for my free newsletter and I will send you a discount code for 10% off all three.
BLOG POSTS (Free)– I regularly post a number of blog posts to the site where I share information, tips and guidance on the low-risk football trading strategies that I use, along with my own personal results. I believe in transparency and always share how I get on rather than just offering you my tips.
If you have any questions, please feel free to email me. 😉
5K Challenge & Lay The Draw Tips
Date
Time
Match
Strategy
TBC
For tips, trade reviews and more, please subscribe to my free Newsletter or Telegram
5K Challenge Running P/L: +59.46 pts (+£594.63)
LTD2 Running P/L: +19.33 pts (+£193.30)
5K Challenge Results
| Month | Profit/Loss | Win Rate | Avg Stake | Total Stakes | Yield | Running P/L |
| --- | --- | --- | --- | --- | --- | --- |
| 22 | +£79.53 (7.95 pts) | 20/27 - 74.07% | £7.22 | £195.00 | +40.78% | +59.01 pts (£590.14) |
| 21 | +£19.37 (1.93 pts) | 12/19 - 63.15% | £6.51 | £123.85 | +15.63% | +51.06 pts (£510.61) |
| 20 | -£40.15 (4.01 pts) | 8/25 - 32.00% | £12.00 | £300.00 | -13.33% | +49.62 pts (£496.24) |
| 19 | +£19.32 (1.932 pts) | 16/24 - 66.66% | £10.32 | £247.86 | +7.79% | +55.63 (£556.39) |
| 18 | +£76.66 (7.66 pts) | 23/30 - 76.66% | £9.01 | £270.50 | +28.34% | +53.70 (£537.07) |
| 17 | +£45.62 (4.562 pts) | 14/17 - 82.35% | £7.97 | £135.50 | +33.66% | +46.06 (£460.63) |
| 16 | +£39.65 (3.965 pts) | 13/21 - 61.90% | £8.76 | £184.00 | +21.54% | +41.50 pts (£415.01) |
| 15 | -£6.28 (0.628 pts) | 8/19 - 42.10% | £8.81 | £167.39 | -4.07% | +37.53 pts (£375.36) |
| 14 | +£32.46 (3.24 pts) | 11/17 - 64.70% | £9.29 | £158.00 | +20.54% | +38.21 pts (£382.18) |
| 13 | -£17.44 (1.74 pts) | 7/16 - 43.75% | £9.50 | £152.00 | -11.47% | +34.97 pts (£349.72) |
| 12 | +£51.92 (5.19 pts) | 11/15 - 73.33% | £9.86 | £148.00 | +35.08% | +36.71 pts (£367.16) |
| 11 | +£17.11 (1.71 pts) | 9/15 - 60.00% | £10.26 | £154.00 | +11.11% | +31.52 pts (£315.24) |
| 10 | -£8.38 (0.83 pts) | 5/11 - 45.45% | £12.09 | £133.00 | -6.30% | +29.81 pts |
| 9 | +£80.64 (8.06 pts) | 24/34 - 70.58% | £8.64 | £294.00 | +27.42% | +30.65 pts |
| 8 | +£35.97 (3.59 pts) | 21/29 - 72.42% | £6.68 | £199.00 | +18.07% | +22.58 pts |
| 7 | +£5.12 (0.51 pts) | 18/28 - 64.28% | £8.82 | £247.00 | +0.20% | +18.99 pts |
| 6 | +£10.05 (1.05 pts) | 40/63 - 63.49% | £7.46 | £470.16 | +2.13% | +18.48 pts |
| 5 | +£25.34 (2.53 pts) | 43/67 - 64.17% | £6.06 | £406.04 | +6.24% | +17.47 pts |
| 4 | +£76.47 (7.64 pts) | 30/41 - 73.17% | £7.90 | £324.21 | +23.58% | +14.93 pts |
| 3 | +£58.37 (5.83 pts) | 37/56 - 66.07% | £8.12 | £455.00 | +12.82% | +7.29 pts |
| 2 | -£61.70 (6.17 pts) | 10/21 - 47.61% | £8.69 | £182.50 | -33.80% | +1.45 pts |
| 1 | +£76.37 (7.63 pts) | 40/52 - 76.92% | £7.63 | £396.82 | +19.23% | +7.63 pts |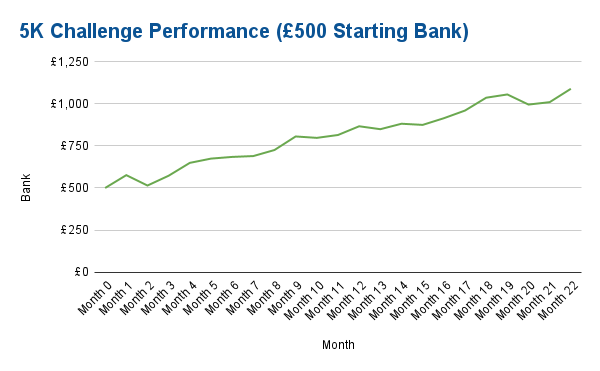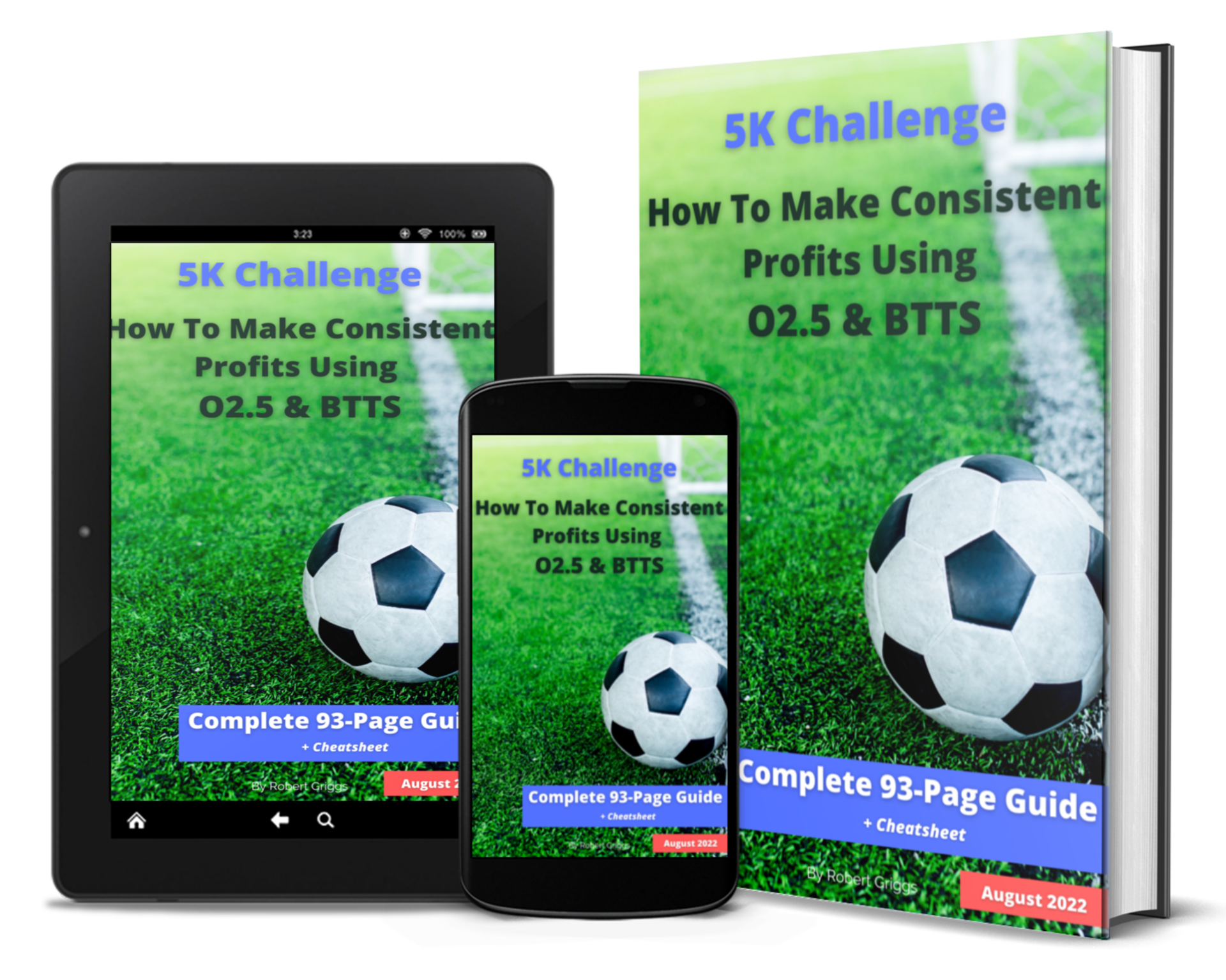 LTD2 – Lay the Draw Results
| Year | P/L | Points | Strike Rate | # of Trades | Staked | Yield | Running P/L |
| --- | --- | --- | --- | --- | --- | --- | --- |
| January-April 2022 | +43.89 | +4.389 | 28/44 - 63.63% | 44 | £516.75 | +8.49% | +18.28 pts (£182.83) |
| December 2021 | -£5.83 | -0.583 | 3/6 - 50% | 6 | £68.50 | -8.51% | +13.89 pts (£138.94) |
| November 2021 | +£6.98 | +0.698 | 7/9 - 77.77% | 9 | £97.50 | +7.15% | +14.47 pts (£144.77) |
| October 2021 | +£8.24 | +0.82 | 13/20 - 65% | 20 | £221.92 | +3.71% | +13.77 pts (£137.79) |
| Aug - Sept 2021 | +£20.50 | +2.05 | 14/20 - 70% | 20 | £209 | +9.80% | +12.95 pts (£129.55) |
| July 2021 | +£6.12 | +0.61 | 5/7 - 71.42% | 7 | £65 | +9.41% | +10.90 pts (£109.05) |
| June 2021 | +£16.13 | +1.60 | 5/7 - 71.42% | 7 | £60 | +26.88% | |
| May 2021 | +£12.09 | +1.20 | 6/7 - 85.71% | 7 | £56 | +21.58% | |
| April 2021 | +£34.12 | +3.41 | 15/19 - 78.94% | 19 | £158 | +21.59% | |
| March 2021 | +£38.00 | +3.80 | 15/19 - 78.94% | 19 | £156 | +24.35% | |
| May 2017 - April 2018 | +£898.51 | +65.895 | 72.11% | 662 | £9,512 | +9.44% | |