Have you just started your football trading journey and want to learn more about the over 2.5 goals market?
The great thing about Betfair is that it offers so much choice in terms of the markets you can bet on.
In this guide, you'll discover everything you need to know about what is one of the best football trading markets to trade.
You will learn:-
What the over 2.5 goals market is
Why the market is so popular on Betfair
Some over 2.5 stats
Leagues with the most over 2.5 goal games
How to predict if a game will end with over 2.5 goals or not
The probability of over 2.5 goals occurring
Tools for finding the best over 2.5 games
Strategies and systems for over 2.5 goals
And much more.
Let's go!
What is over 2.5 goals?
Over 2.5 goals is a betting market which relates to the number of goals that will occur in a football match. So for a game to go over 2.5 goals, three or more goals need to be scored.
It doesn't matter if the game ends 3-0, 0-3, 4-2, 3-1, 2-1 or 1-2. As long as the total number of goals exceeds three or more, the game would have ended with over 2.5 goals.
It also doesn't matter if both teams score or not.
If you open any game on Betfair, you will see that there are many markets available.
In the image below, down the left, you can see that in this particular game, which was an international friendly between England and Wales, there were approximately 70 markets in which to choose from!
If you click on 'Over/Under 2.5 goals' down the left, you will see something like this.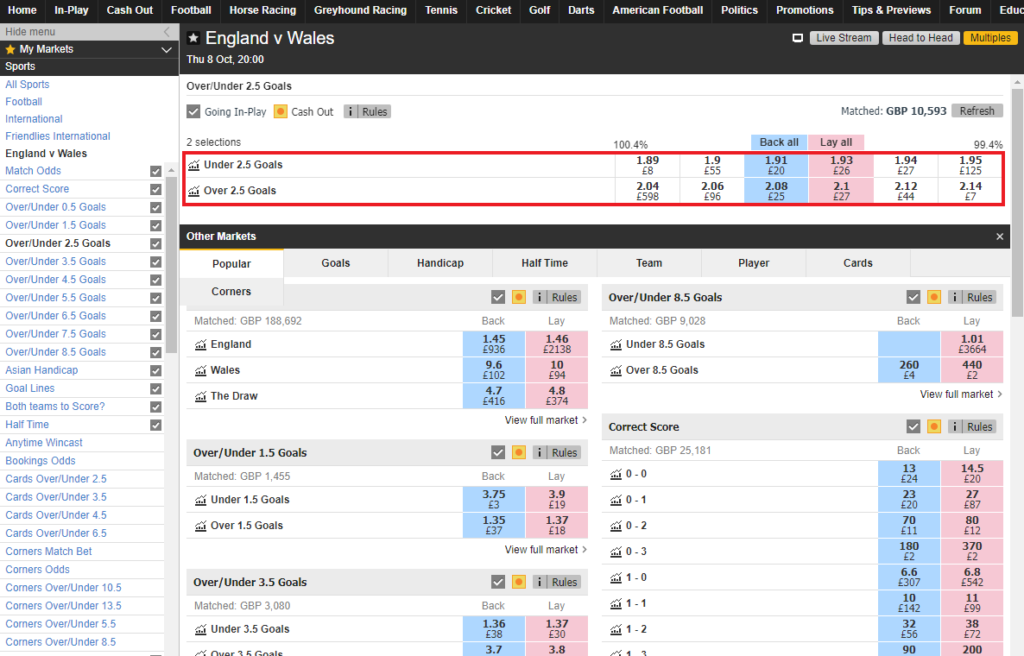 So as you can see in this example, the back odds for the game to end in over 2.5 goals is currently 2.08 with around four hours to kick-off.
Although the price is likely to fluctuate up until kick-off, the initial price gives us a good idea on the probability of there being three goals or more.
So BACKING the over 2.5 goals means you think the game will have three or more goals.
LAYING over 2.5 goals means you think the game will NOT have three or more goals.
The same can be said for the under 2.5 goals market above it.
If you BACK under 2.5 goals you are betting that the game will finish with fewer than three goals i.e. one or two.
If you LAY it, you are betting against it happening. So laying under 2.5 goals means you think there will be three or more goals in this particular game.
If I thought a game would have three or more goals in the game, I could either BACK over 2.5 goals or LAY under 2.5 goals. They are the same thing!
Why on earth do they use 0.5 goal increments?
Betfair and bookmakers use increments of 0.5 goals, i.e. 0.5, 1.5, 2.5, 3.5 instead of 1,2,3 so that the market can only have two possible outcomes.
There are either over 2.5 goals or there aren't.
How does the over 2.5 goals market work?
Before any match kicks-off, a market is formed on Betfair for over 2.5 goals and the other possible outcomes.
Up until kick-off, the price will fluctuate up and down as traders and other bettors look to take a particular price. Some will back and some will lay.
For every lay bet, there must be someone backing and for every back bet, someone has to be willing to lay it. Anyone who lays is in effect playing the part of a bookmaker. Bookmakers take or 'lay' bets.
Essentially, what you are doing is betting with another person on the exchange as to whether the particular outcome will occur or not.
When the game starts, the price to back over 2.5 goals will start to drift (get bigger). The longer the game goes on without a goal, the bigger the price will be as there is less time left in the match to find three goals.
Once a goal goes in, the price for over 2.5 goals will come in. So if the price of over 2.5 goals was 2.0 (evens) at kick-off and a goal is scored after ten minutes, the price may drop to something like 1.5 due to there only needing to be two more goals in the remaining time.
In the image below from the England v Wales game, you can see that after 20 minutes the price to back the over 2.5 goals had drifted to 4.0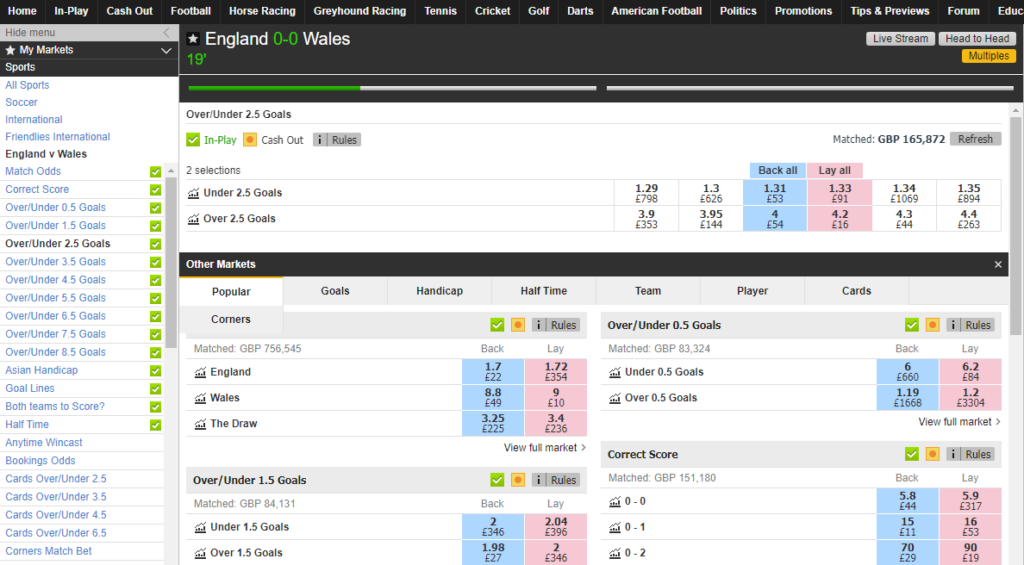 You can see visually in the shot below of how the price drifted due to no goals being scored.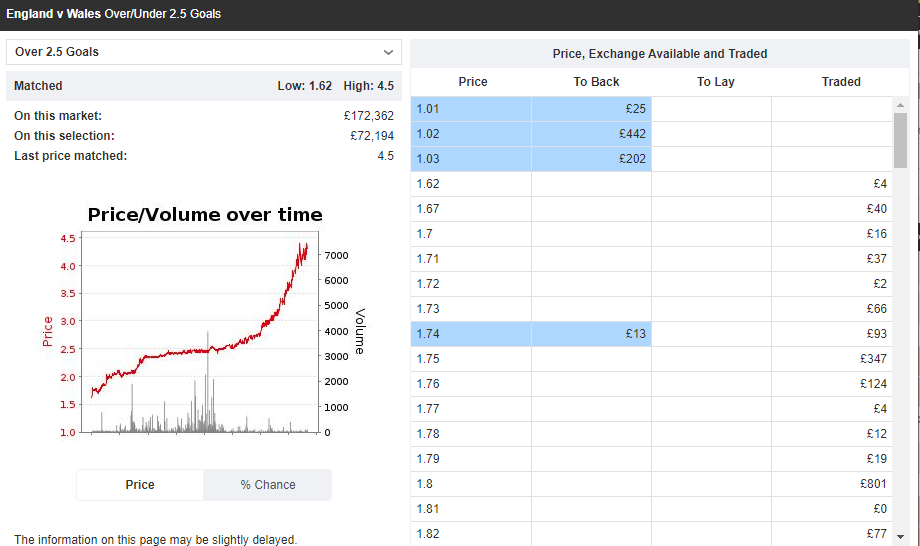 England did in fact take the lead on 26'. Fortunately, the price after the first goal was still over 2.20 which I thought at the time was good value.
So on this occasion, I decided to back over 2.5 goals after the first goal went in. The game ended 3-0 with another profit in the bank.
Once the three goals were scored, the over 2.5 goals market was closed.
Why is the over 2.5 market so popular?
One of the main reasons that the O2.5 market is so popular is because of the liquidity.
When trading any market, you want there to be lots of money coming in and out of the market.
The more money there is in a market, the easier it is to get in and out of your trades. This is especially true if you are using larger stakes, for example, £50 or £100 stakes.
If you back over 2.5 goals and there is very little money in the market, you may not be able to get out as there won't be anyone willing to take the other side of your bet.
Another reason for its popularity is in its simplicity. Will there be over 2.5 goals, yes or no. Around 55% of games have over 2.5 goals so bettors feel it's pretty much a 50/50 chance on whether they guess right or not.
Traders also like the market as there is plenty of money in it to get involved with scalping or swing trading.
Should you trade over 2.5 goals pre-match or in-play?
Whether you trade over 2.5 goals pre-match or in-play is a matter of personal choice and may also depend on whether you are betting, trading or doing a mixture of the two.
If you are scalping which is when you look to take a position, wait for the price to move a tick or two and then get out for a profit (or loss), you will most likely be doing this pre-match. This is because before kick-off there will not be any large sudden movements in the market like there are in-play when a goal is scored.
Many traders like to back the under 2.5 market (or lay the overs) in the first 15-20 minutes, make a small profit and then exit before the goals go in.
On the other hand, if you are betting you may choose to back or lay over 2.5 goals at kick-off and let your bet run.
What's important to understand is what we call 'time decay' and how this affects price movement.
Time decay and the over 2.5 price movement
Experienced Betfair football traders know that the vast majority of goals are scored after the first 15-20 minutes.
Naturally, during this period, the price will drift and will only come down if a goal goes in. (See images above from the England v Wales friendly)
Many people like myself will often wait for 15 minutes or more to see how the game develops and make sure that there is attacking intention occurring, ideally from both teams.
At the end of the day, we want goals, so having both teams looking to score is the ideal situation if we are betting on over 2.5 goals.
Over 2.5 goals strategy
Over 2.5 is one of my favourite markets. You could say I like it a LOT!
Thanks Jim!
Anyway. When making my selections I will typically look for matches that have an over 2.5 price of between 1.5 and 1.9. Any higher than this and the market is suggesting that there is far less possibility of three goals being scored.
This could be for several reasons. Poor recent performance, a derby game (many are tight affairs), key strikers are out injured, no need to play for a win (promotion secured for both teams) etc.
So if a game that you feel should have much lower odds for the over 2.5 market hasn't, ask yourself why and do some research.
Betfair is very efficient because when you think about it, thousands of punters are predicting how many goals there will be based on the back and lay bets. So the 'wisdom of the crowds' on Betfair can give us more realistic odds and hence probabilities of any given outcome happening.
However, just because the price is higher at kick-off, doesn't mean that it won't happen, just that it is LESS likely to.
You can read more about how I trade O2.5 via my post on my 5K Challenge.
I will personally nearly always drip my stakes in a bit at a time in either four or five chunks.
So if a game kicks-off with the price for over 2.5 at 1.6, I will stake 0.20 points @ 1.60, 0.20 points @ 1.70, 0.20 points @ 1.80, 0.20 points @ 1.90 and 0.20 @ 2.0.
So 0.10 price increments each time.
That way, as the game gets older and time decay kicks in, I am taking a bigger price each time. There is no need to sit and wait for the price to be reached. Just set them up in Betfair before kick-off and make sure you click "Keep in play".
If a goal goes in early and only one or two bets have been matched, you just cancel the unmatched bets. Simple.
I will be creating an in-depth guide very shortly which will give you a step-by-step approach to trading over 2.5 goals including how to find your own selections in just a few minutes.
Over 2.5 goal stats and the best leagues to trade
On average around 55% of games end with over 2.5 goals. Some teams have more over 2.5 games than others, as do some leagues.
I prefer several leagues when I trade including the English Premier League, German Bundesliga, Italy Serie A, Sweden Allsvenskan, Norway Eliteserien and one or two others.
In 2019/20 my top three leagues to trade produced the following over 2.5 stats for the season.
England Premier League – 52%
Germany Bundesliga – 65%
Italy Serie A – 63%
Spain's La Liga didn't fare so well with just 46% going over 2.5 and the French Ligue 1 also performing badly with just 47%.
I usually avoid cup games and internationals sticking to league matches only. The England v Wales game above was an exception as I sometimes like to have a punt when watching a game on TV.
Some football statistics websites provide you with the information for the best leagues for over 2.5 goals.
For example this page at Win Draw Win.
https://www.windrawwin.com/statistics/best-leagues-for-goals/
There are certainly some leagues that I avoid for over 2.5 goals such as Brazil Serie A. I'm not a huge fan of the French Ligue 1 or the Portuguese leagues either.
I will often use Soccerstats.com myself as it is really quick and easy to see a preliminary list of possible selections on one screen like this.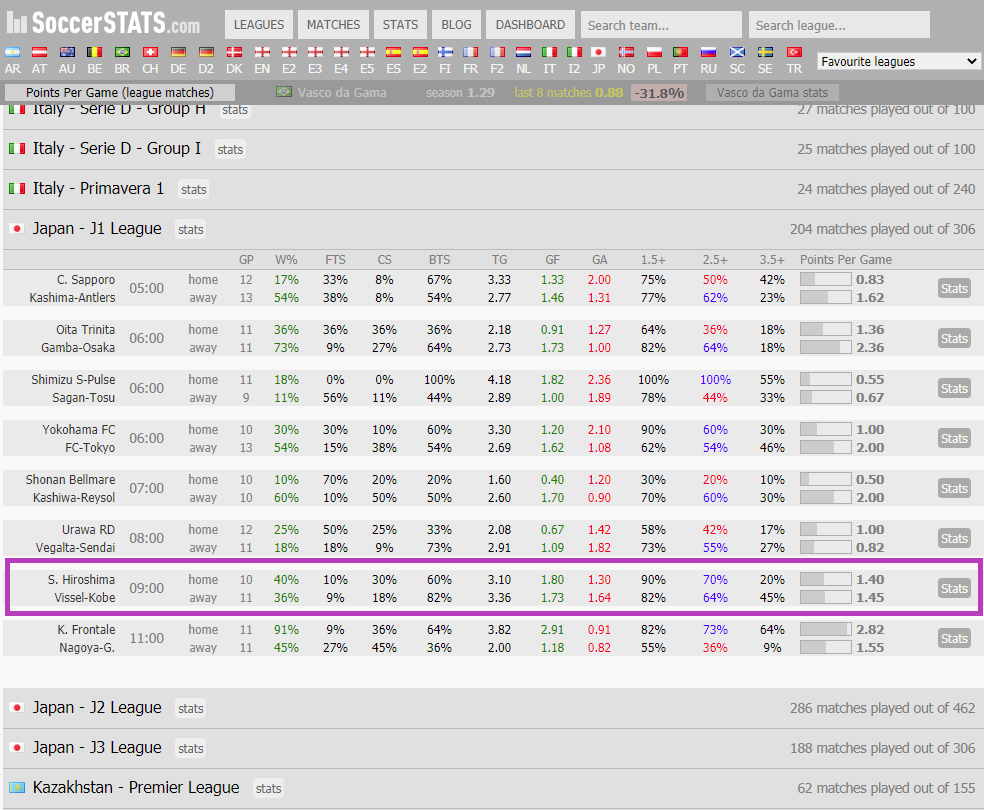 To see a list of the day's games along with future games go to the following page https://www.soccerstats.com/matches.asp
As you can see it is dead-easy and quick to see a list of possible selections. I selected the Japanese J-League in this example as the main winter leagues had only played one game at home and away so far, so not a great example to use.
In the example above, the Hiroshima v Vissel-Kobe game looks the most promising. Both teams have played 10 and 11 games home and away with a combined total of 67% of games ending over 2.5 (70 + 34 / 2), 86% of games had ended with over 1.5 goals (90 +82 / 2) and BTS for both teams had a combined total of 71%.
So this game definitely warranted further inspection. The game actually did on this occasion finish with over 2.5 goals with the match ending 2-1.
The other games I almost instantly ruled out as the stats were just nowhere near my combined threshold percentages of 65% BTS, 90% over 1.5 and 70% over 2.5 goals.
As you can imagine, on a Saturday, there can be lots of games on. Using a site such as SoccerStats above can be a real time saver.
Another excellent site is Adam Choi – https://adamchoi.co.uk/#/
Visit the site, hit 'fixtures' down the left and you will see much of the information you need to find your selections.
Once on the page, in the top dropdowns, choose 'Total Match Goals' then 'Over 2.5 Match Goals' then '70%' and finally the number of games you want to see the stats for. I will generally go for 10.
Once you are finished, the page will change to highlight your search criteria.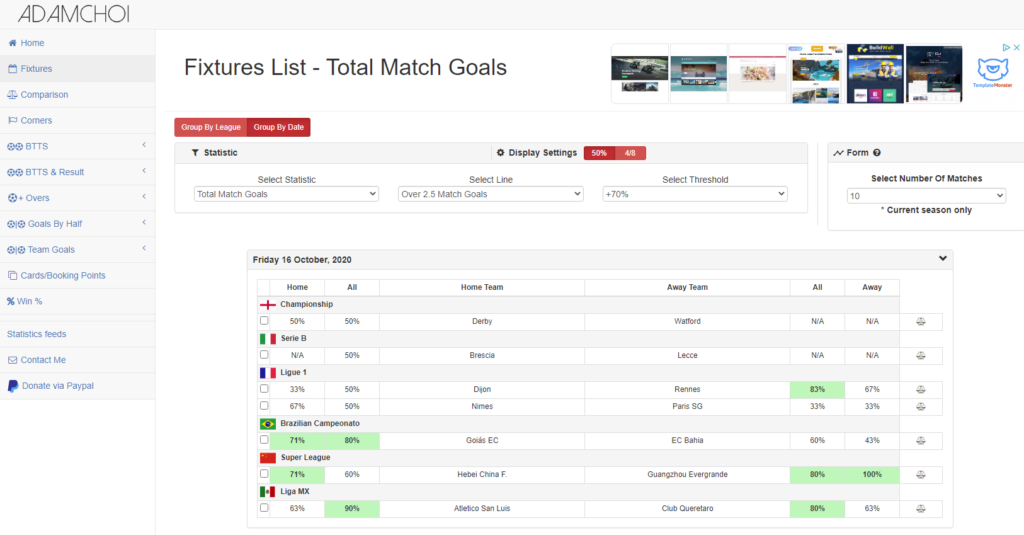 You basically want to initially check those highlighted in green and use the 'Home' and 'Away' columns only.
So the Hebei v Guangzhou game, in the image above you can see that the figures are 71% and 100% giving a combined total of just under 86% for the overs. (I actually traded this game and had a winner with the score ending 1-3).
Personally, I prefer the winter leagues and try to stick with the English Premier, German Bundesliga and Italy Serie A leagues as much as possible. I am happy to venture into the Japanese J-League, Chinese Super League, Norweigian Eliteserien and Swedish leagues if the stats look good.
How to predict and trade over 2.5 goals successfully
Finding the best games to trade over 2.5 goals is not easy, although with the right approach, method and tools you can profit consistently over the long-term, which should always be your goal.
I have now published an in-depth guide on trading the over 2.5 goals and BTTS markets which you can use to follow along with my 5K Challenge. Click the image below to find out more or to purchase the 90-page 5K Challenge E-Book.
If you register for my free newsletter I will send you a discount code for 10% off.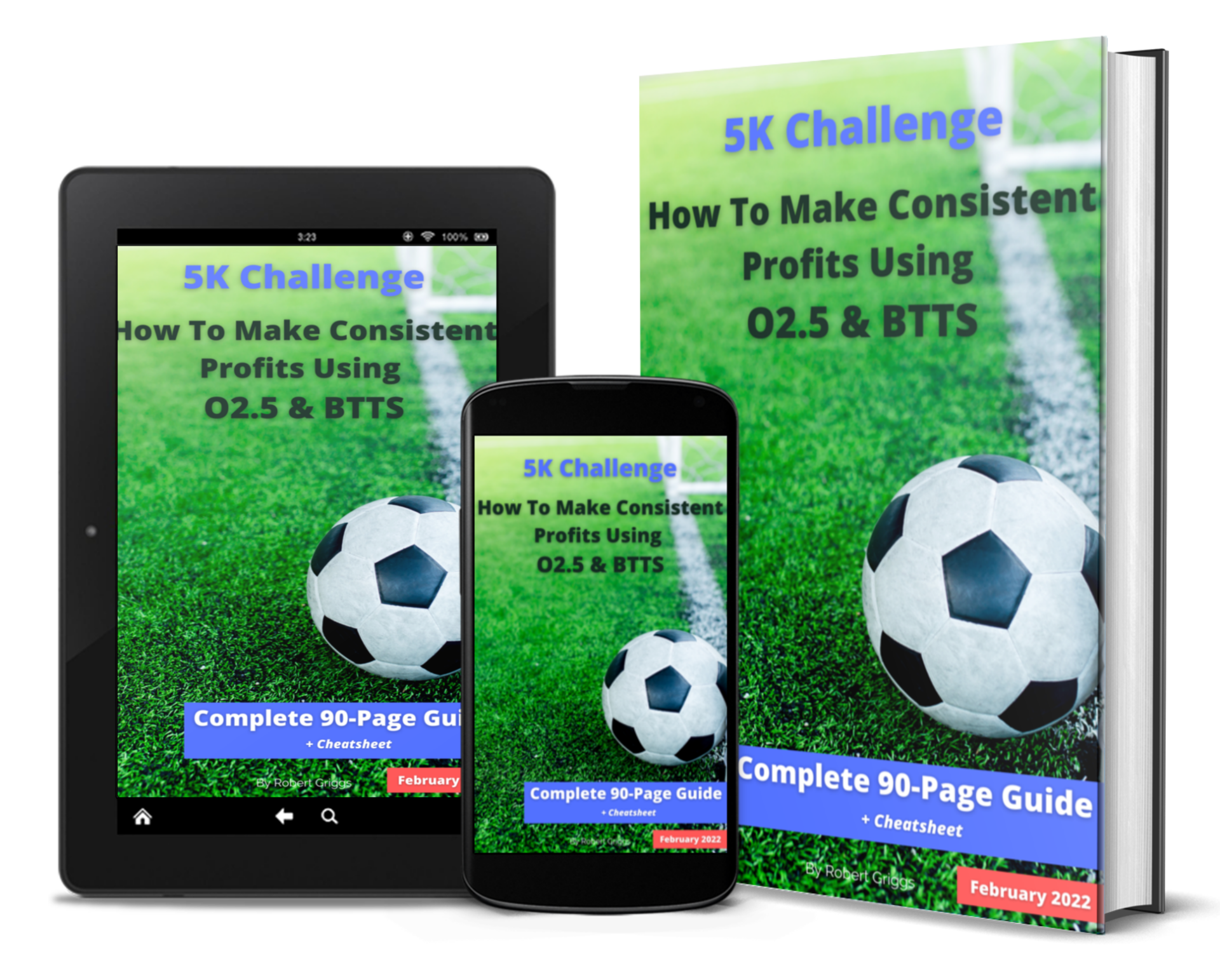 You can follow me on Telegram by clicking the image below.