This is the first of many reports that I will be publishing where I will give you a detailed overview of the selections I have traded.
I won't have time to do it for all of my selections but will pick the odd one or two each week.
Hopefully, it will give you a better insight into how I trade my selections and help develop your own trading skills.
As you will see, I am by no means perfect. I make mistakes. Sometimes I enter my trades a little too early, exit too late (or in some cases too early) and generally screw up from time to time. I am human after all!
But like I say, hopefully, it will help us all to become better football traders.
So let's have a look at last night's 5K Challenge trade from the Norwegian Eliteserien which was between Sarpsborg and Molde.
Entered around 15% of my stake into the Over 3.5 market at kick-off.
I started as I do these days with all of my 5K trades by backing over 3.5 goals at kick-off. The amount I stake will depend on the price which will be anywhere between 2.0 and 3.0, but will usually be between 10 and 25% of my one point stake.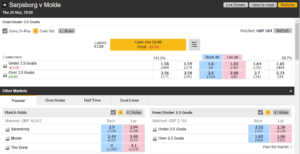 All I needed to do now was to wait 10 minutes or so to see how the game was progressing. Time for a cup of coffee at this point.
When I returned I checked the stats and could see that the game had started really well with lots of early pressure from Sarpsborg.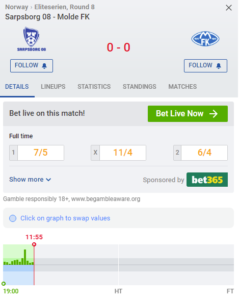 At this point, we had already had four shots, all from inside the box. Goals looked highly likely.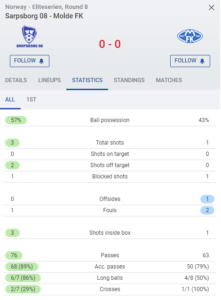 So entered a touch more into the O3.5 and then started dripping into the O2.5 market. BTTS was still a little lower than O2.5 which is often the case. At this point, it is a juggling act. I don't want to enter too much of my stake in too early as the price on O2.5 was still fairly low at 1.80. I like to really commit from 1.9/2.0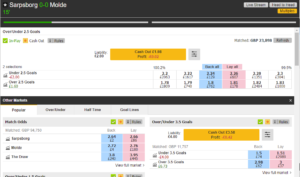 I use soccerscanner.net which is an excellent tool to monitor in-play trades.
You can see below that the 41/39 (first column) shows there is a lot of action in the game. You can see that at this point there had been 3 shots on target, 7 from inside the box and one corner.

Game on! So I just keep entering my stakes. Drip, drip, drip.
Another thing you can do is to check the Betfair pricing chart. You can see to the far right that the price on over 3.5 stalled a little (horizontal) for a period of time. This can be a sign that a goal could be coming.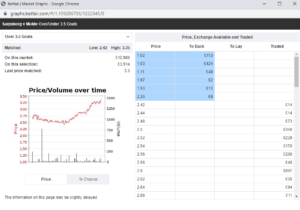 And the pressure and goal attempts continued to come…

13 shots, 7 inside the box, 6 on target and 3 corners. This was at 33′.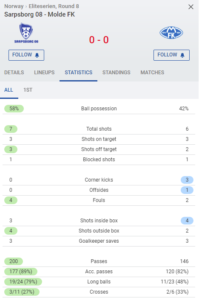 So once again, I continued to drip my stakes in, this time adding into the BTTS. My total at this point was £19, just a little shy of my one point stake.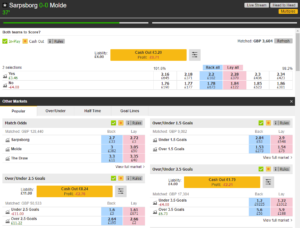 The chances increased.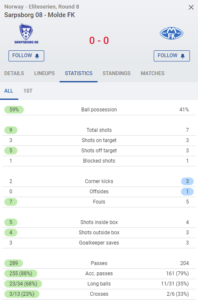 I admit, that it's common to get to this stage and start to wonder if the ball just isn't going to go in.
At HT the match was still 0-0. I was ready to hit the bottle! (I do like a Chardonnay or two). I don't mind losing myself but hate it when I publish my selections, people follow them and then lose their money. Not a nice feeling.
Fortunately, we found the opener on 50′ from Molde. Game on!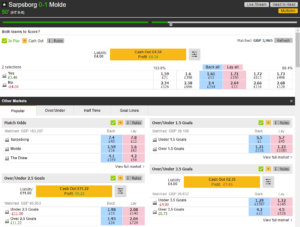 This brought me time. As a rule I will either trade out at HT if the game is particularly bad, but stay in until 60′ if it looks promising like this one did.
We just needed that opening goal to spark the game into life.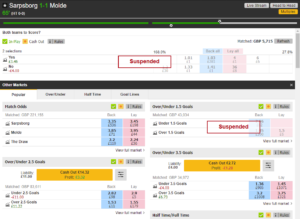 On 65′, Sarpsborg equalised which gave me a win on the BTTS and some profit across the O2.5 and O3.5. I could have cashed out but as the game was so lively I decided to let it run a little longer.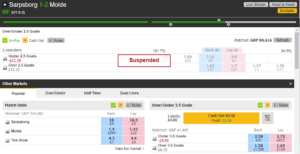 On 68′ Molde took the lead giving me a profit on O2.5 and a profit on O3.5.
At this point, I could have cashed out the O3.5 but decided to slowly remove my liability.

Unfortunately, we couldn't find another goal, however, I had already secured almost 1.5 pts profit so wasn't too bothered.
That's it for my first detailed review.
I will do more of these moving forward (losers as well).
Many thanks for all your support and for purchasing the ebooks. It's much appreciated!
I plan on updating these again in the coming weeks.
If you would like to purchase any ebooks you can do so via my Payhip page. Enter discount code SUMMER2022 for 20% off until the end of August. This also includes the multi-ebook package.
Remember that you will automatically receive all updated versions completed free of charge.
There will be fewer trades over the summer. I will mostly be sticking to the Norwegian and Swedish leagues.
Have a super weekend!
Keep it green!

Rob
My Football Trading System
https://www.myfootballtradingsystem.com