Month 4 of my 5K Challenge saw another profit of +7.64 pts or £76.47 to my initial £10 one-point stakes.
As a result of my bank growth, I am now using stakes with a maximum liability of £13, which is 2% of my current bank.
Over the course of month 4 (12th November to 11th December), I traded a total of 41 games with 30 wins and 11 loses (73.17% strike rate).
In total, I staked £324.21 with an average stake of £7.90. This meant that my return or yield on my stakes was 23.58%. Nice!
You can see a chart below showing my progress to date.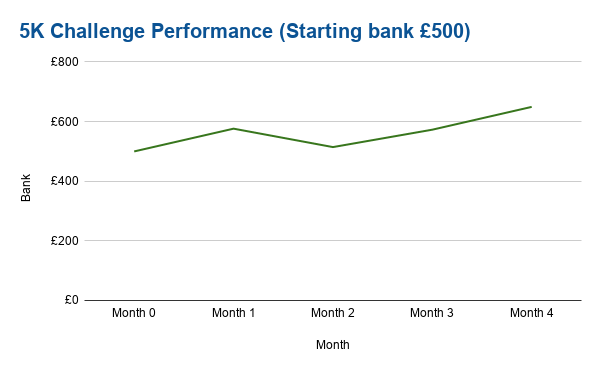 Here's a breakdown for month 4.
Month: 4
Period: 12th November – 11th December 2020
Monthly Profit/Loss: +7.64pts (£76.47)
Total Staked: £324.21 (Avg Stake £7.90)
Monthly Yield: +23.58%
Running P/L: +14.93 pts (£149.39)
Starting Bank: £500
Current Bank: £649.39
New E-Book – Now Available!
I have finally published the new E-Book which I have been working on for quite some time.
The E-Book is comprehensive and will show you how I trade my 5K Challenge selections. I also present the exact same method and tools I use to find my selections along with lots of information on mindset, entry and exit strategies, value, xG (Expected Goals), In-play analysis and lots more.
There is a small charge for the guide, although you are not obligated to purchase it in order to follow my free tips via the Telegram channel.
I would, however, recommend that you do, as it's quite detailed and offers an insight into how to trade my selections effectively in order to make consistent profits. Click the image below to find out more and to purchase.
All the best and keep it green!