So we got back on track this month with a profit of +5.83 pts or £58.37 to my current £10 stakes.
In total, I traded 56 games with an average stake of £8.12. Of the 56 trades, 37 were winners giving me a strike rate of 66.07%.
Although I use £10 stakes, they are not always fully matched as I drip my stakes in. If there is an early goal, I may only be partly matched on the full £10.
My total stakes were £455 with a return of £58.37 giving me a Yield for the month of 12.82%.
I made a significant change to my selection process at the start of month 3 and this has so far really paid off. Hopefully, this will continue moving forward.
Here's the breakdown.
Month: 3
Period: 12th October – 11th November 2020
Monthly Profit/Loss: +5.83 pts (£58.37)
Total Staked: £455.00 (Avg Stake £8.12)
Monthly Yield: +12.82%
Running P/L: +7.29 pts (£72.92)
Starting Bank: £500
Current Bank: £572.92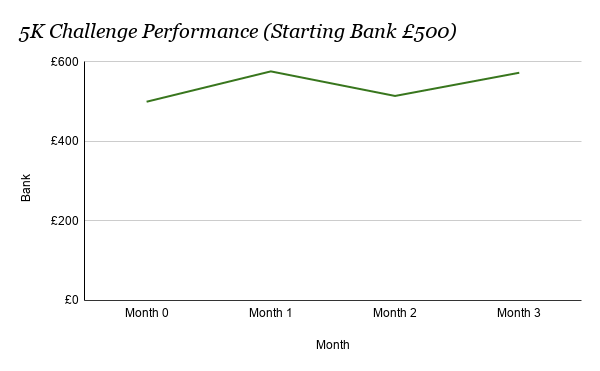 If you want to join me, please subscribe to my Telegram Channel where I will be posting all of my selections for the 5K Challenge.
I also post them to the home page here.
Things will be quiet over the next couple of weeks but should be back with my tips around November 21. 😉