How To Make Consistent Profits Using The O2.5 & BTTS Markets
Make an extra income trading football matches with my proven strategies. 
Download the complete 90-page 5K Challenge guide and start making a second income trading football on the Betfair exchange. Lifetime updates of the E-Book and Cheatsheet are included for free!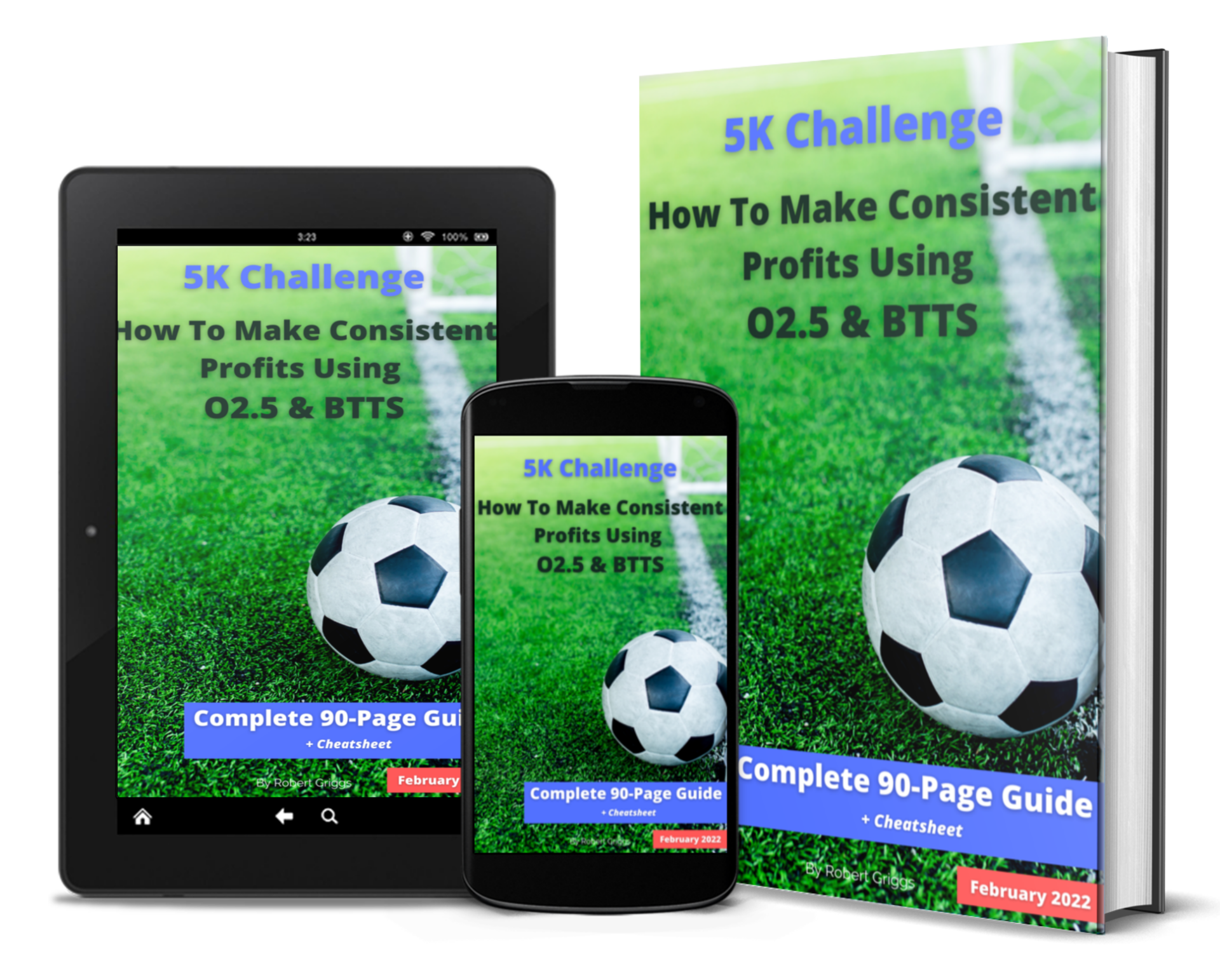 E-Book Version: February 2022 (90 pages) – £19.99
Dear Football Trader,
Are you tired of losing?
I've been there myself! I know how it feels to have a good run of winning bets only to experience a series of losses, wiping out any gains you had previously made. It's frustrating, to say the least.
It's not your fault though!
There's so much conflicting information online that it can be hard to discover the secret to being a successful football trader.
Then there are the "Gurus"!
You know, the ones who churn out YouTube videos telling you how easy it is to win, providing you with tips but failing to ever publish their own profit and loss accounts!
Personally, I've been online providing tips, guides and free advice via my website for a few years now and ALWAYS update you with my own progress while sharing my profit and loss.  I live trade nearly all of my selections via my free live trades Telegram Channel where I have hundreds of followers.
The 5K Challenge system is a proven strategy to make consistent profits, month-on-month.
Just take a look at my current results below.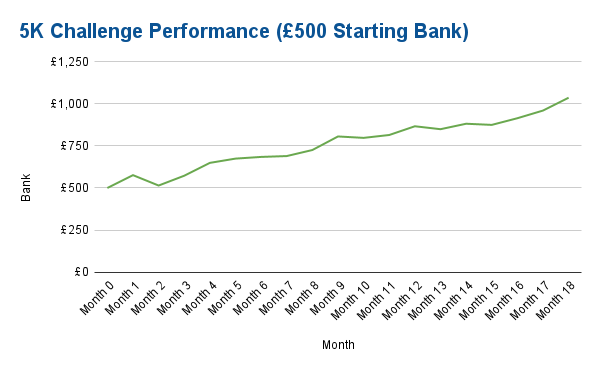 That's a current profit of 55.59 pts or £555.91 to £10 stakes!
It can take a little time, but I assure you that winning consistently and watching your bank grow safely over time is much better than blowing your bank on risky trades. My approach works. Period!
Who is the E-Book for?
The 5K Challenge E-Book and system is not for those looking for some kind of 'get-rich-quick' scheme.
It's also not for those who want success without putting in any effort.
If that's you, you may as well click away now and go back to giving your money away to the other Betfair traders or your friendly online bookmakers who only offer you poor odds!
However, if you are willing to put your head down, learn and adopt the correct mindset, then I am pleased to say profiting from football trading will be VERY possible for you.
Unfortunately, without the right systems and approach, the vast majority of people will simply fail.
Whether you're an experienced trader looking to add to your existing portfolio of systems or a novice looking to get up and running with minimal effort, this E-Book is for YOU.
This 90-page E-Book contains everything you need to be successful while making regular profits safely and with minimal risk to your trading bank.
In August 2020, I started my 5K Challenge where I post my selections free to my website and main Telegram Channel.
The E-Book will enable you to follow my own tips, however, you will also find a section which details the exact same method I currently use to find my winning selections.
Also included is extensive information on my Cheatsheet including a link to download your own copy. The Cheatsheet is my secret method of finding lots of goals!
Not only that, contained within the E-Book you will find vital information on how to trade the O2.5 and BTTS selections effectively, minimising risk and maximising profit.
I also guide you through other important aspects to football trading including entering and exiting your trade, staking, mindset, how to find your own selections, my five pillars of selection, finding value and much, much more.
I also reveal all the tools I use which give me an edge and allow me to consistently extract profit from the markets.
As an added bonus, anyone who purchases the E-Book will automatically be eligible to receive all future revisions completely free.
I can't promise you overnight riches, but I can promise you that with the right approach, you will see consistent long-term profits.
Now that's what I call a CERTAINTY!
Purchase today and discover the secret ingredients you need to join Betfair's small minority of WINNERS!
If you have any questions about this or any of my other E-Books, please contact me.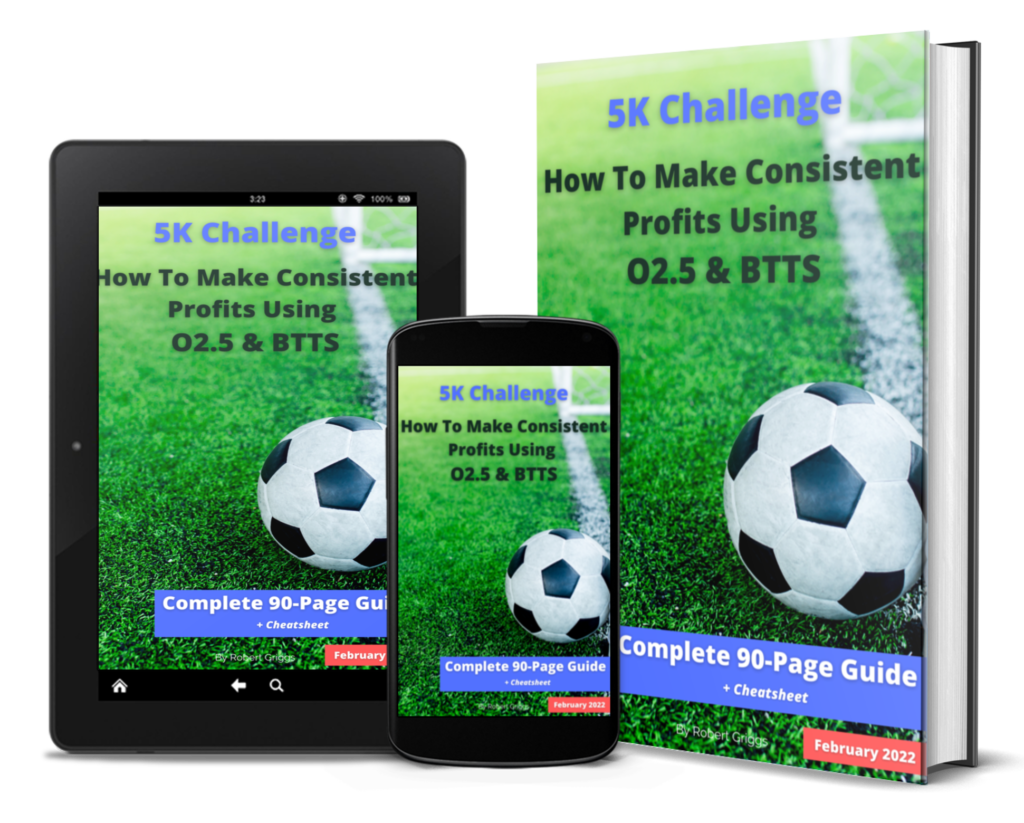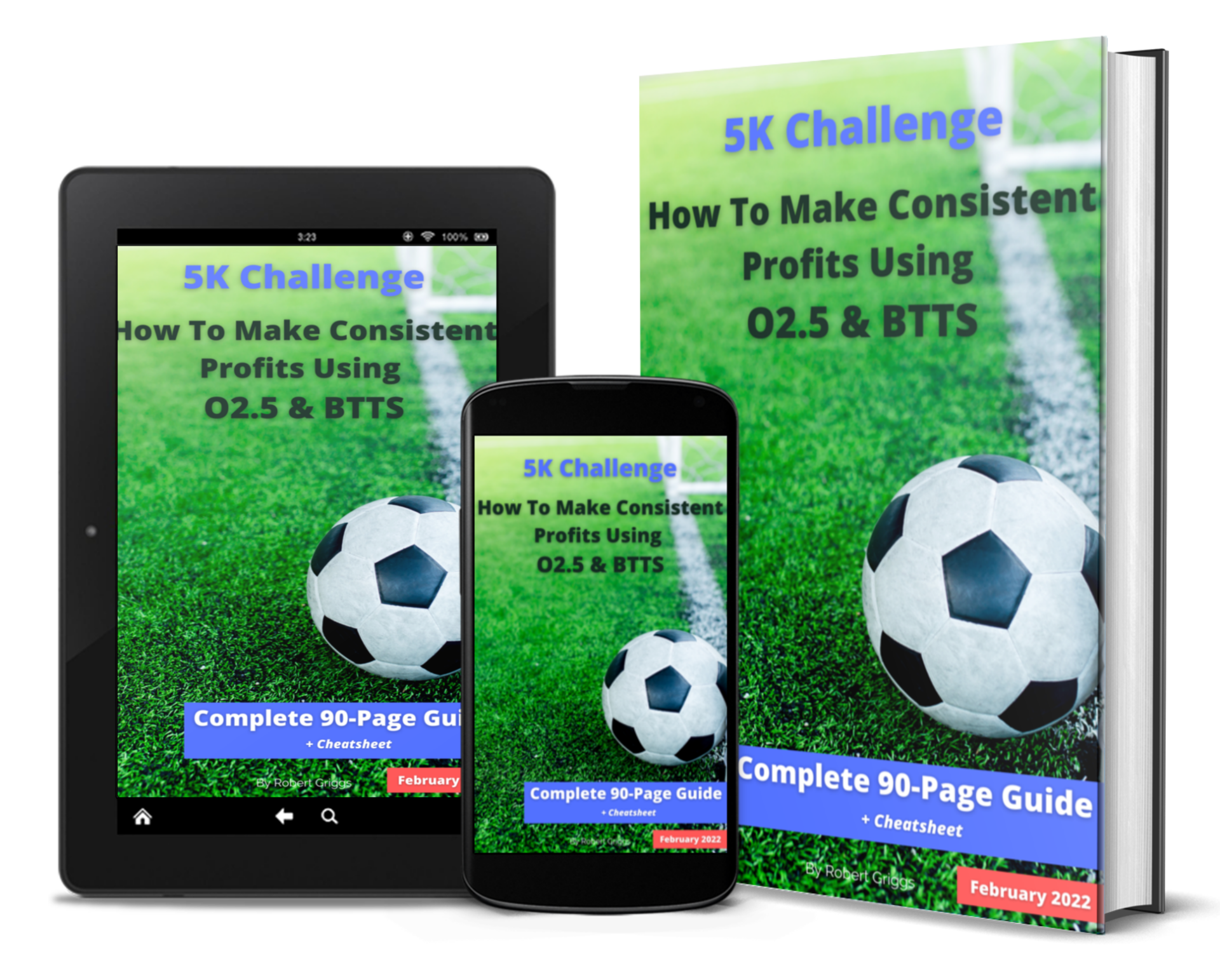 E-Book Version: February 2022 (90 pages) – £19.99